'You're not alone' – Kylian Mbappe shows support for Vinicius Junior after latest racism storm as Brazil team-mate Neymar & Selecao legend Ronaldo among those behind Real Madrid star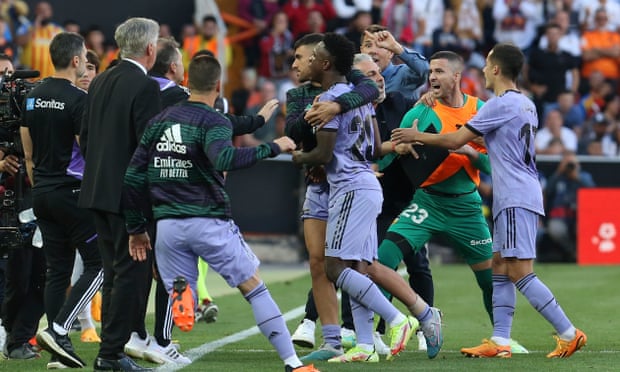 After hearing racial epithets from spectators during Real Madrid's loss to Valencia on Sunday, Vincius Jnior accused La Liga and Spain of being racist. The game was paused for ten minutes after Vincius Jnior called out the crowd who were criticising him. Later, during extra time, he got into a fight with Valencia's players and was dismissed.
Kylian Mbappé, a forward for Paris Saint-Germain, offered Vincius Jnior his support after the Real Madrid player received racial taunts on Sunday.The most recent insult directed at Vincius occurred during Madrid's 1-0 loss to Valencia. The game had to be momentarily stopped because Vincius claimed a supporter had insulted him behind one of the goals at Mestalla Stadium. Black 22-year-old Vincius has endured several racial taunts ever since relocating to Spain five years ago.You're not by yourself. You have our full support, Mbappé stated on Instagram.Following France's defeat by Argentina in the World Cup final last year, Mbappé was also the target of racist and cruel remarks on social media.Brazilian politicians including President Luiz Inácio Lula da Silva, players and clubs ha ve come out to support Vinícius and criticize racism in the Spanish league.