"Messi's Arrival: Unlocking Soccer's Potential in the US, Exceeding Beckham's Impact"
Lionel Messi is bringing his skills to Fort Lauderdale, not South Beach. He will play there this summer after it was announced that Inter Miami had won the competition to recruit perhaps the greatest player in history. The magnitude of the deal is unprecedented in Major League Soccer. much more significant than David Beckham's transfer to the Los Angeles Galaxy in 2007.
The US football scene was altered by Beckham. Messi is one of the most recognised figures in sports, and his transfer to the Galaxy not only propelled MLS into the American mainstream but also made it an attractive option for some of the league's biggest stars. Beckham, a co-owner of Inter Miami, has completed the circle by bringing the GOAT to the MLS.
Messi was pursued for years by Inter Miami. The Argentinian praised Beckham after the team was given an MLS expansion berth in 2018. In a video posted on social media, he remarked, "Who knows, maybe in a few years you can give me a ring." Inter Miami was quick to call to make an offer when Messi left Barcelona in 2021, but he ultimately selected Paris Saint-Germain, where Beckham also played. A transfer to Inter Miami was undoubtedly discussed when Beckham attended a PSG training session and was photographed with Messi.
Messi was envisioned as a future addition to Inter Miami when the team was founded. As the club's chief commercial officer, Xavi Asensi was recruited from Barcelona, while Victor Oliver, another former Barça administrator, was appointed senior vice-president. According to recent sources, Tata Martino, a former coach of Argentina and Barcelona, has been contacted regarding the club's managerial opening. Inter Miami, who may end up looking like a Messi And Friends XI, has also been connected with moves for Sergio Busquets, Jordi Alba, and Luis Suárez.
On the pitch, Inter Miami are in bad shape. At PSG Messi lined up alongside Neymar and Kylian Mbappé, in Miami he will be a teammate of Robert Taylor, once of Lincoln City and Barnet. Messi may have to win games on his own to push his team up the table: they are bottom of the Eastern Conference and on a run of five straight league defeats. There are also questions over whether Inter Miami's temporary 18,000-capacity DRV PNK Stadium in Fort Lauderdale will be suitable for the coming circus. Could the much larger Hard Rock Stadium, home of the NFL's Miami Dolphins, host some Inter Miami matches to sell more tickets? The appetite certainly appears to be there: Forbes reported that the cheapest tickets on resale websites for Messi's possible home debut in August are exchanging hands for more than $500.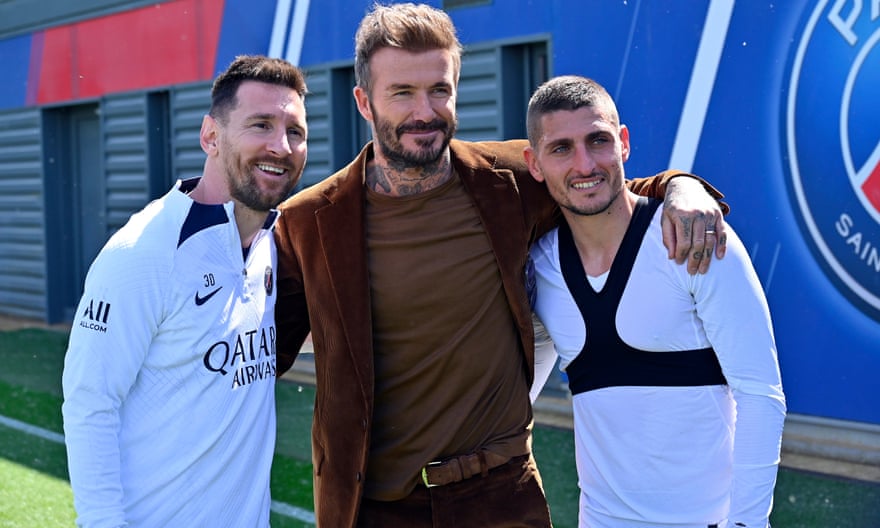 For PSG: A colossal blow to the brand. At the end of the day, though, PSG had put themselves in a perilous position in relation to Financial Fair Play regulations by committing so much cash to the salaries of three superstar forwards. One of them was always going to have to go this summer and there was no way PSG were giving up Kylian Mbappe, the cornerstone of their entire project, while they still can't find a buyer for Neymar. In that sense, Messi's exit was inevitable and the incredible thing is, the fans are happy to see the GOAT leave, given he came to represent everything they hate about their club. So, at least he's off the books now, meaning PSG can no doubt waste the money saved on some other ill-advised signing…
The century's biggest deal for Inter Miami! There is no strong team for Inter Miami. At the moment, they are last in the Eastern Conference. It's also not a very well-run club. For a period of more than two years, Phil Neville was permitted to lead the squad. That provides you with all the information you want on David Beckham and his fellow owners. Despite fierce Saudi Arabian rivalry for his talents, they were nevertheless able to complete the largest contract in MLS history. Is Messi still performing at the pinnacle of his abilities? Obviously not. However, he continues to be a complete magician, as demonstrated by the fact that he motivated Argentina to win the 2022 World Cup only seven months ago. His mere presence changes everything for Miami and MLS.
A pretty wise decision for Messi. Although going to Saudi Arabia would undoubtedly have increased his income, he has still guaranteed himself a sizable wage for the foreseeable future. It was hoped that Messi will attempt the Champions League one more. He claimed to be anxious to claim a fifth championship, but this was obviously untrue. It appears that his one remaining professional ambition is to lead his nation at the 2026 World Cup, which will be held in the United States, Mexico, and Canada. Given that the MLS is far less physically demanding than any of Europe's Top 10 leagues and that Messi will feel completely at home in the United States by joining Miami, Messi has a great chance of attaining his goal.